By Pranika Koyu
She, my grand aunt, is in her mid seventies.  I do not know her exact age.  I can always ask her but she will not answer.
She got stuck in Nepal government's out of blue and ill prepared whimsical imposition of lockdown to prevent COVID-19 transmission.  Since early January, her children in Australia and USA had been asking her to return to Australia where her husband and families of three sons live.  She turned deaf ears.  I, the grand niece in Kathmandu, volunteered to be a go-between to try and convince her to hop on the plane and return.  She was adamant.  She has a long standing issue to resolve in Nepal and she is pretty clear that she will not return until this gets resolved.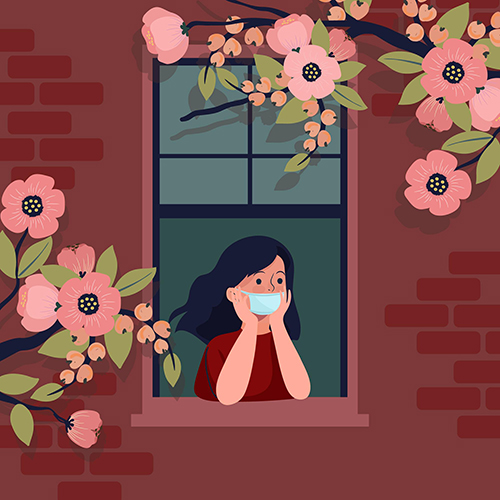 She holds a provisional Australian PR which requires her to be in Australia for a substantive time of the year.  This year, she has been in Nepal longer than planned and if she does not enter Australia by mid April, there are nominal chance of she getting a PR.  This is one of the reason why her family wanted her to return to Australia by March end.  However, on each reminder, she told us off with 'I know all of that. I have it all scheduled.'  I am a non-interfering 'it's your choice' and 'don't come to me later' individual, therefore, I just watched on. Besides, if her family's emphasis, and mercurial change in Australian government's lockdown plan would not prompt her, my attempts to inform her would also not be listened to.  It is not that I did not try. I did and I failed.
Since her return from Australia to Nepal, she had been staying as a paying guest with one family who none of us knew anything of.  Therefore, seeing how her disinterest to return to Australia, I proposed that she stay with me for her remaining days in Nepal.  It was a family's understanding that this way, at least we will know her whereabouts.  All sides were glad that she moved in two weeks prior to lock down.  However, little did we all know that our grand aunt-niece relationship would be tested and that also in hot waters in a slow and steady temperature of COVID-19 lockdown.
Prior to lockdown, she would leave home early and come back in the evening.  She would have eaten her breakfast and lunch outside.  In the evening, she would eat whatever I would have prepared for all of us. Every evening, she would come back with a bagful of food.  Initially, I politely told her that there is enough food already at home and it would be wise to eat them first.  She ignored.  The food supply continued.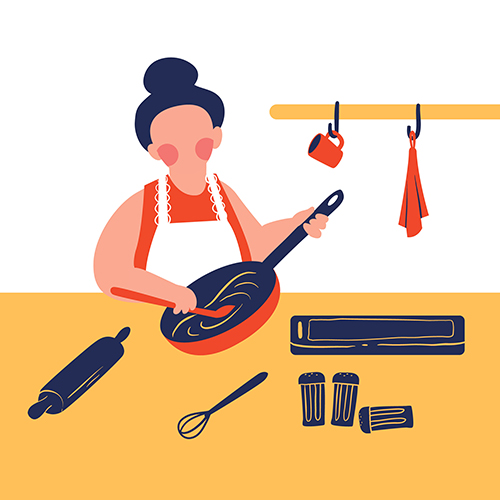 Things got worse when the lockdown happened, and major part of it was set in the kitchen.  My cooking cannot appeal everyone. My food easily tastes bland to many of us who like to use generous amount of spices, condiments and oil.  Therefore, my grand aunt began to cook and though I had no problems with it, slowly issues around rationing, portion, sourcing of food – be it fresh or dried, or packed – began to emerge.  I have always been viewed as the 'frugal' one by my family whenever I have stretched use of every substance that is in my possession, including food.  Soon, I started to eat leftovers from each meal, silently fume over the rationing, and get appalled at she going out every morning to buy 'fresh' vegetables and meat.  This was also amplified by the fact that another adult living with us – father of my child – has his own taste and was no better than my grand aunt.  In the first week of lockdown, I witnessed polite struggle of these two with one other, in the kitchen.  Interestingly, both of them had agreed (no words spoken here) that it should be these two who should cook.
By the second week of lock down, these two adults have come into terms with each other's preference.  It is only me who has not come into these terms.  I, the one who has been eating leftovers of their large portions of each meal in the morning and evening.  Till date, I have cooked only thrice, and I alone ate all of that over a course of three to four days.  They did not even taste it.  I cook only for my 45-month-old child who of course loves my plain cooking.
They must be happy with their power to be able to shop, cook and eat what they want.
My efforts for judicious use of every food in the kitchen has gone down the drain, and my meticulously packed plastic packages are vanishing fast because they use it as a garbage bin.  My attempts to compost fruit peels, egg shells, vegetable peels, etc. have been completely ignored and messed up.  In all of this, I stand helpless while I seethe.  I tried raising this with them only to meet dead pan expressions, be ignored or unpleasant shouting match at times.  Then I decided not to raise this anymore because these are adults who are as opinionated as I am, and in a time where anything can trigger a range of emotions, I have chosen to 'tolerate'.  I eat whatever they cook, and make silent note of their rationing comparing them with how it would have been different in my handling.
So, while I am in this dejected kitchen mood, how do you think they fare?  They must be happy with their power to be able to shop, cook and eat what they want. One would like to think.  Maybe they are. Or maybe they are not.  I have refused to eat by their side in fear that I might snap.  So, my silence amplifies to them as scorn, a rebuke.  My singular eating of meals is offensive to them.  They would rather have me voice it out which I have stopped doing.  So, are they enjoying their meal? I don't know.
***